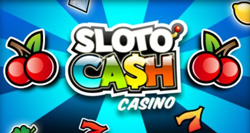 Making casino reviews for a living is a responsible task, as we always must remain objective to the facts. Today, we have prepared for you the most simple yet informative Sloto-Cash Casino Review ever, in hopes that it will help you in making the right choice for yourseles. So strap your gambling hats on, and lets get it on! Established approximately ten years ago, this casino started making big impressions in the gambling community with its successful slot gaming section. It wasn't long before it it gathered the public's interest, and today it continues to remain a worthy competitor to other big online casino names.
Get up to $1,000 Welcome Bonus now!
The Sloto-Cash Casino Mobile App Is Beyond Entertaining
Now, if we are going to say that an aspect of an online casino is "entertaining" we would have to provide an explanation that makes sense, right? So without any further delay, let's say you would go to your play store, install the Sloto-Cash Casino Mobile App and just dive right in. Our first impression of the greeting interface was good. The overall gold theme was perfectly balanced along with the different virtual slots displayed right away. If you have decided to try it out, you will see that almost all slots are "grayed-out" and have a small pad lock in the bottom left corner. After a few greeting messages, the app will redirect you to a slot machine that isn't locked, and will provide you with a number of "fun money" so you can start spinning and betting.
The game itself was easy to understand, and after a minute you could start stacking up some points of your own. Here is where it gets interesting – when you win, there is a bar in the middle-right part of the screen tracing your level progress and every time that bar fills up, you're greeted by a pop-up message that gives you free play coins, and also unlocks one of the slots. The pop-up message will have buttons that will give you the opportunity to directly go to the newly unlocked game or continue playing the current one. Naturally, if you start running out of coins a friendly pop-up will appear offering you 20,000 of those virtual play coins so you can continue playing – all you have to do is watch the ad, of course.
Graphically-wise, the application is pleasant to look at. The sound effects in all slots are vibrant and clear – in our humble opinion they sound much better than any other slots we've encountered online. Is there any downside to the mobile application? Well… it's only slots. When you take a look at the browser version of Sloto-Cash, you know that the majority of the games will be slot machines, but after some navigating you would reach a few variants of poker, roulette, and dice games. After doing some more research in regards to this matter, we found out that the experts at Sloto-Cash are aware of these "limitations" and plan someday in the future to introduce an update or a separate application that features all their table games alongside their virtual slot machines. An important fact you shouldn't miss, is that if you decide to make the Sloto-Cash your new favorite app, bear in mind that when receiving a text message for different promotions may be taxed by your mobile services operator.
Watch Out For That Sloto-Cash Casino Bonus and The Wager Requirements
As in most casinos, the terms and conditions can be a tad difficult to understand, but this is why we are here. You will no doubt receive a number of bonuses during your time with this online casino, but bear in mind that every bonus also comes with its own wagering requirements. The bonus system here has its own merits and limitations and the sooner you are able to understand them, the more flawless your gaming experience will be.
When you decide to make a deposit, depending on which time you made it, the percentage of the bonus will be different. In addition to every bonus, you will receive a hefty number of free spins. But make no mistake; the casino lists a rule which states that if you wager more than $10 from your bonus money, resulting winnings will be void. The wagering requirements here are majorly concerning the bonus you receive and they are x60. So before you start collecting any bonus money, you will have to play through the amount sixty times!
Join Sloto Cash Casino and get a bonus!
Meet The New The Sloto-Cash Live Casino
Just as most online casinos, this one also offers a section where you can play with a live dealer. If you fancy of having a legitimate casino experience, you will be able to enjoy games like European and American Roulette, Baccarat, Blackjack and Casino Hold'em. Of course, an HD webcam stream will provide you with perfect visuals while you play. There is a bit of a downside to the live version of the casino. In order to play, you will have to download and install a gaming client to your computer, as playing through your browser is unavailable at this stage. Another drawback could be considered the fact that you will need to transfer funds from your regular account balance to the so-called "live dealer" balance. Although it is done quite easily, some people might find that to be too much work.
Some Final Words of Advice
The first impression you get when you visit Sloto-Cash, is that of an online casino that is heavily geared toward offering slots. And while other casinos favor slots modeled after popular movies, music bands, and other mainstream themes, Sloto-Cash's charm lies in a variety of Jungle, Mythical, and Sport themed designs. All games provided to Sloto-Cash come form a gambling software developer company by the name of RTG Casinos, which delivers a gambling gaming platform to many online casinos. Famed for their quality slots, RTG continues to be a valued partner to Sloto-Cash. This casino is ideal for all your virtual slot machine needs. The casino delivers a clean yet rich-with-color environment which is guaranteed to entertain you for a long time. You can always make an account and try the free versions of most games they offer, to gain a better perspective of what you should expect. 'Till next time, stay lucky!
Other Recommended Casino Sites