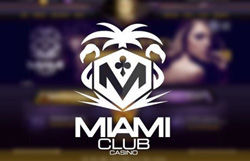 Wait, what? Yes, you've read it correctly. This Miami-club casino review is going to tell you the truth and nothing but the truth. While this particular online casino excels at some points, it lacks in others; hence, the "almost perfect" phrase. And here we go. Right off the bat, you're greeted with a stylish dark-purple design, that looks calming as well as inviting. You can recognize the shadows palm trees and flamingo elements meticulously crafted behind interactive buttons, reminiscent of the lush side of the state of Miami. The luxurious look of the website definitely sets the tone for gambling enthusiasts almost everywhere. Almost, because some countries are restricted from having access – but that isn't a really big deal, since most online casinos have the same policy. On an up-note, players from the United States are welcome! Not many online casinos based in Europe allow US players, but Miami is definitely one that does.
Get up to $800 Welcome Bonus now!
When It Comes to Games, Miami-Club Goes Quality over Quantity
Powered by the software developed WGS technology, Miami-club club offers a selection of more than 150 casino games. If you favor slots, you will find more than 120 here, in three, five or seven reel variations. Here are a few of the games that have gained a steady following over the few years the casino is active:
Video Poker
Blackjack
Baccarat
Roulette
Keno
Scratch Cards
Simple and to the Point – Enter the Miami-Club Mobile App
Regular players prefer their online casinos for personal reasons. Once they have established a connection with their favorite house, they will continue to do their business there, and it goes the same when choosing an app. The Miami-club mobile app offers simplicity and functionality to their players, while still retaining its luxurious visual style. It goes without saying that in order for the application to be light on your mobile device, the majority of the desktop games are not present. For the time being you can enjoy around 20 slots on the mobile version of the casino, as well as some table games, poker, and keno. Just as the web-based version, you will be able to deposit additional money from your mobile device and continue playing.
The Miami-Club Live Casino Could Use Something More
What does that mean? Well, although the title is quite self-explanatory, the Miami-club live casino aspect simply doesn't exist. Being a relatively new company ( the casino started in 2013), may have something to do with it but at this point we could be speculating. To the live dealer fans out there, it might sound a bit disappointing, and who could blame them; we would have loved to see a Miami-club live game studio made in that stylish purple design featured on their website. Well, perhaps sometime in the future.
Join Miami Club Casino and get a bonus!
A Welcoming Miami-Club Casino Bonus You Will Love
If you just made your Miami-club accounts, you can benefit from a $800 bonus right away. The casino is prepared to give you a 100% bonus on each first-time deposit ( up to $100). Make sure you check the wagering requirements! Comp points are also offered to the players – they are gathered every time a bet is made. As you would expect, once you have sufficient amount of Comp points, you can exchange them for real currency. The rate by which you would receive Comp points is determined by the amount of your bet, and the type of game you're playing. The bigger the bet, the more points you will make, and don't forget that the points have a wagering requirement x1.
Our Final Casino Verdict
Although a bit lacking, Miami-club continues to remain as one of the most favorite online casinos these days. It offers tournaments on weekly and monthly basis, it delivers multi-platform solutions, and offers a great range of games. It would seem that they have experienced some type of difficulty in the past, because they do have a list of countries they completely restrict and others they allow, but without any bonuses.
The casino has only a few preferred methods for paying out money, most of which are e-wallets such as Skrill, Neteller, Eco, and Bitcoin. Those are the methods that won't cost you anything. If you would like to receive a check, that will be $30. If you wish to have your money wired to the bank, it is going to cost you $60. Making a deposit won't cost you anything – as you could probably guess at this point, there are only a handful of methods you can use to make that happen, and debit cards don't seem to be some of them. And while the casino has a few hick-ups, it is for reasons of security and stability, because at the end of the day the players like to play knowing that their money is in a good establishment.
Other Recommended Casino Sites